Level of psychological well-being in working mother women
Keywords:
working mothers, family, motherhood, career.
Abstract
In today's world, great importance is attached to human employment and professional development. Women are increasingly entering the sphere of not only professional realization, but also politics. At the same time, a woman's reproductive function is part of her other significant vocation, namely the mother. The issue of the role of psychological well-being in working women-mothers is becoming increasingly important. It is the solution of this issue that determines not only the development of a woman's family but also of society as a whole. In our study, the following categories of women-mothers aged 23 to 40 years were identified: women who voluntarily started/continued professional realization after the birth of children; women who have voluntarily chosen the profession of "mother and wife"; women who were forced to choose a job without internal consent; women who were forced to give up their professional pursuits under pressure from their husbands or relatives. Volunteers are mostly satisfied with the work schedule, the incentive system, interaction with colleagues from other departments, the content of work. Instead, women mothers who have been forced to work often have a negative attitude towards their work schedule and conditions. At the same time, there is significant fatigue of women who started/continued their professional activity after the birth of children, as evidenced by the fact that only a third of them feel satisfied with life. The highest level of psychological well-being is observed in women-mothers who have volunteered for work and strive for a harmonious combination of family and career growth. Women who choose a family voluntarily also have high levels of psychological well-being, albeit to a lesser extent. The lowest rates of psychological well-being are observed in women who are under external coercion to choose family realization without the right to professional realization.
References
Bondarchuk O. (2001). Family psychology: a course of lectures. (in Ukrainian)
Dorozhkina I. (Ed.) (2009). Modern Ukrainian family: gender issues and ways to overcome them. Materials of the regional scientific-practical conference. (in Ukrainian)
Emmanuel, E.N., Creedy, D.K., St John, W., Brown, C. (2011). Maternal role development: The impact of maternal distress and social support following childbirth. Midwifery, 27(2), 265-272. https://doi.org/10.1016/j.midw.2009.07.003
Fetiskin N., Kozlov V. & Manuilov G. (2009). Socio-psychological diagnosis of personal development and small groups. Moscow Publishing House of the Institute of Psychotherapy. (in Russian)
Fortin N. (2005). Gender role attitudes and the labour-market outcomes of women across OCED countries Oxford Review of Economic Policy, 21 (3), 416-438. https://doi.org/10.1093/oxrep/gri024
Gash, V. (2009). Sacrificing their Careers for their Families? An Analysis of the Family Pay Penalty in Europe. Social Indicators Research, 93(3), 569-586. https://doi.org/10.1007/s11205-008-9429-y
Gauthiera А.Н., Emeryb Т., Bartovac А. (2016). The labour market intentions and behaviour of stay-at-home mothers in Western and Eastern Europe. Advances in Life Course Research. 30, 1-15. https://doi.org/10.1016/j.alcr.2015.12.002
Govorun T., Kikinezhdi O. (1999). Gender and sexuality. Psychological perspective. Ternopil: Textbook Bogdan. (in Ukrainian)
Grauvogl А. (2017). The Predicting Value of Personality and Psychological Well-Being Regarding Sexual Functioning in Women. The Journal of Sexual Medicine. 14(5-4), 256-257. https://doi.org/10.1016/j.jsxm.2017.04.263
Gridkovets L. (2004). The alphabet of married life. Family home. (in Ukrainian)
Gridkovets L. (2006). Psychological principles of overcoming unemployment among mothers with many children. Psychology of the personality of the unemployed. Materials of the III All-Ukrainian scientific-practical conference. 154-159. (in Ukrainian)
Gridkovets L. (2019). Some results of longitudinal research of psychological and pedagogical factors of family determination of personal crises. Herald of Kyiv Institute of Business and Technology, 42 (3), 95-101. https://doi.org/10.37203/kibit.2019.42.15 (in Ukrainian)
Gupalovska V. (2010). Gender determinants of women's subjective well-being: theoretical analysis. Socio-humanitarian problems of man. 4. 208–221. (in Ukrainian)
Iaizzo R.S, Diez M.L., Fernández N.P. (2021). Psychological well being and fertility: habits that increase happiness in women increase their reproductive capacity. Fertility and Sterility. 116(3), 366-367. https://doi.org/10.1016/j.fertnstert.2021.07.984
Kuipers Y. J., Beeck Е., Gils Y. (2021). The impact of motherhood on the course of women's psychological wellbeing. Journal of Affective Disorders Reports. 6, 100216. https://doi.org/10.1016/j.jadr.2021.100216
Lavrinenko N. (1999). Woman: self-realization in the family and society (gender aspect). VIPOL. (in Russian)
Leontiev D. (1992). Meaning of life-sense orientation (SMO). (in Russian)
Narcisoa І., Relvasb А.Р., Ferreiraa L.C., Vieira-Santosa S, Fernandesa M., Santa-BárbaracInês S., Machado I. (2018). Mapping the "good mother" – Meanings and experiences in economically and socially disadvantaged contexts. Children and Youth Services Review. 93, 418-427. https://doi.org/10.1016/j.childyouth.2018.08.029
Powell J. (1993). The Completeness of Human Life (L. Vasilenko. Trans.) Public Orthodox University, founded by Archpriest Alexander Mene. (in Russian)
Raevskaya Ya. M. (2013). The phenomenon of a distant family and its impact on the individual. Collection of scientific works of K-PNU named after Ivan Ogienko, Institute of Psychology named after GS Kostyuk NAPS of Ukraine. 5 (6). 20-25. (in Ukrainian)
Ryff C. D., Keyes C. L. (1995). The structure of psychological well-being revisited. Journ. Pers. Soc. Psychol. 69. 719–727
Ryff C. D., Singer B. (1996). Psychological well-being: meaning, measurement, and implications for psychotherapy research. Psychother Psychosom. 65(1):14-23. https://doi.org/10.1159/000289026.
Shcherbich L. (1999). A woman's career: its meaning and significance. Samara. (in Russian)
Steiber N.& Haas B. (2012). Advances in explaining women's employment patterns. Socio-Economic Review. 343-367. https://doi.org/10.1093/ser/mwr039
Tkalich M. (2012). Socio-psychological features of gender interaction in the organization. Problems of modern psychology. 1. 46-52. (in Ukrainian)
Turkish G. (1998). Fear of success: a psychological study of the phenomenon. Psychological Journal. 19. 37-46. (in Russian)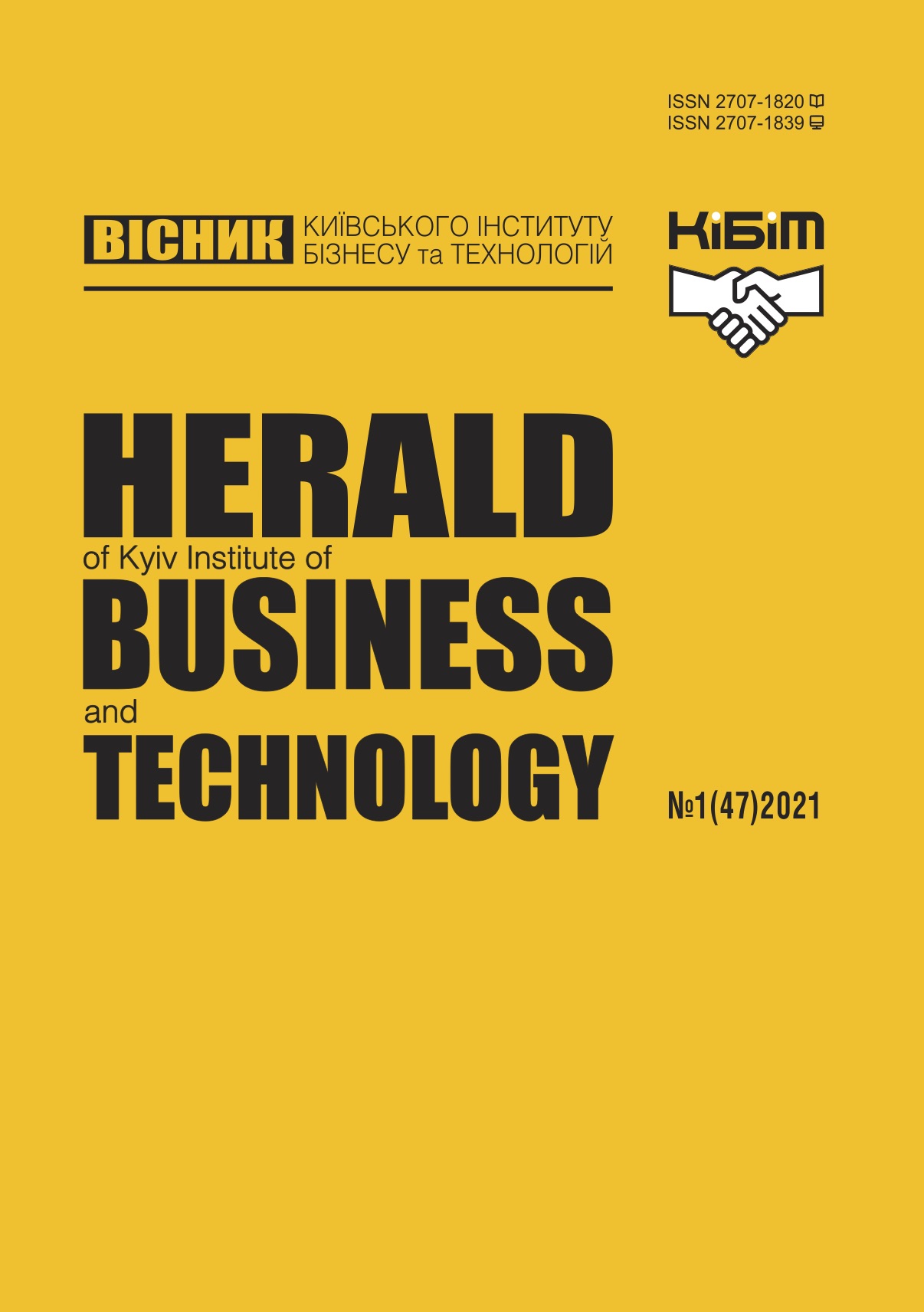 How to Cite
Мелащенко, Ю. П., & Гридковець, Л. М. (2021). Level of psychological well-being in working mother women. Herald of Kyiv Institute of Business and Technology, 47(1), 53-63. https://doi.org/10.37203/kibit.2021.47.05