Detecting drug addict's personal characteristics that define the resocialization dynamics
Keywords:
drug addiction, drug addicted personality, remission, narcotic substances, psychoactive drug, drug prevention.
Abstract
A drug addicted person is in a depressed state, and experiences severe emotions and suffering. Our research's relevance lies in the study of individual personality traits that predispose to the formation of long-term stable remission. The study aims to determine the personal characteristics of drug addicts, based on which it is possible to predict the course of the resocialization process and the dynamics of the course of the state of remission. The multifactorial personality questionnaire MMPI in modification 4.7 BMS (computer version) was used as the main diagnostic tool for the personality traits of a drug addict. We selected 67 indicators for discriminant analysis out of 90 personality traits diagnosed by the MMPI questionnaire. The total sample of this study was 309 people. The main experimental group, hereinafter group I, consisted of 214 people with a diagnosis of opium addiction stages I-II. The average experience of using narcotic substances was 8.2 years, aged 19 to 36 years, with remission of 12 days. Group II - 38 respondents with remission from 1 to 3 years, Group III - 12 respondents with remission for more than 3 years. Control group IV, 45 people, consisted of subjects without a history of opium addiction diagnosis. The result obtained is presented as a spatial classification of the four surveyed groups' subjects according to the results of canonical discriminant functions. As a result, we obtained a diagnostic algorithm based on the discriminant analysis in drug-addicted subjects, which allows, based on consideration of nine personal characteristics, to classify a subject as a drug addict and predict his movement in the resocialization process.
References
Aseeva A.D. (2014) Psychological personality traits that contribute to the development of addictive behavior. Scientific Journal of KubSAU. 101 (07). (In Russ)
Berezin F.B., Miroshnikov M.P., Sokolova E.D. (with T. Barlas) (2011) Methods of multilateral research of personality (structure, interpretation bases, some areas of application).. - 3rd ed., rev. and add. M .: Publishing house "BEREZIN FELIX BORISOVICH". (In Russ)
Zharkikh A.A. (2013) Psychological features of the motivational sphere of drug addicted convicts: PhD thesis in Psyhology: 19.00.06. Ryazan. (In Russ)
Zmanovskaya E.V. (2008) Deviantology: (Psychology of deviant behavior): textbook. manual for stud. of higher. educ. institutions. 5th ed. M: Academy. (In Russ)
Zobin M.L. (2012) Theoretical Models of Addictive Desire: Relationship with Addiction Mechanisms and Treatment. Neurological Bulletin. vol. 44, no. 1. 49-58 (In Russ)
Kolyago O.O. (2016) Clinical and psychopathological structure of the syndrome of overvalued formations, which is formed within the framework of endogenous depression. Psychiatry. 70.15–20. (In Russ)
Kocharyan O.S., Savina M.V., Slyusar V.V., Antonovich M.O. (2018) Particularities of the "I" - the concept of drug addiction. Medical psychology. T. 13, No. 2. 66-71. http://nbuv.gov.ua/UJRN/Mpsl_2018_13_2_17 (In Ukr)
Korolenko Ts.P., Donskikh TA (1990) Main characteristics of the development of addictive behavior. Modern tasks of psychiatry and narcology: Materials of the Altai Regional Congress of Psychiatrists and Narcologists. Barnaul, 33-35. (In Russ)
Lisetskiy K.S.Lityagina E.V. (2006) Psychology of negative addictions. Samara: Publishing house "Univers group" (In Russ)
Lisetskiy KS (2007) Psychological foundations of drug addiction prevention. Samara: Publishing house "Univers group" (In Russ)
Litvinchuk L.M. Psychological ambushes of rehabilitation of narcotic patients: Dr. Sc. thesis in Psyhology: 19.00.04 Nat. acad. ped. sciences of Ukraine, Instutute of psychology named by G. S. Kostyuk. Kiev. (In Ukr)
Lichko A.E., Bitensky B.C. (1991) Teenage narcology (A guide for doctors). L .: Medicine (In Russ)
Maksimenko S.D., Maksimenko K.S., Papucha M.V. (2007) Psychology of personality. Kiev: KMM (In Russ)
Mendelevich V.D. (2010) Addictive attraction: theoretical and phenomenological assessment. Narcology. 5. 94-100. (In Russ)
Mikhailov S.V. (2020) Study of the factors of the formation of chemical dependence. Psychology and personality. 1 (17). - С.94-108 https://doi.org/10.33989/2226-4078.2020.1.195233 (In Ukr)
Mikhailov S.V. (2019) Dynamics of indicators of the emotional sphere of drug addicts during the rehabilitation period. Science and Education a New Dimension. Pedagogy and Psychology, VII (84), Issue: 207, Nov. https://doi.org/10.31174/SEND-PP2019-207VII84-15 (In Ukr)
Mostovaya T. D. (2013) Personal neoplasms in the development of drug addiction. Scientific bulletin of the Ukrainian National Pedagogical University named after KD Ushinsky. Odessa: PNPU named by KD Ushinsky. 3-4. 261-271. (In Russ)
Mostovaya T. D. (2013) Psychological foundations of addictive behavior in the education system: teacher edition. Odessa: Astroprint. (In Russ)
Nakhimova Ya.N., Romashkina G.F. (2017) Social attitudes of young people towards drug use and drug addiction prevention. Education and Science. T. 19, No. 4.18–160. https://doi.org/10.17853/1994-5639-2017-6-138-160. (In Russ)
Parakhina M.V. (2003) Psychophysical and psychological characteristics of opium addicts in different periods of remission: PhD thesis in Psyhology: 19.00.01. Rostov-on-Don (In Russ)
Polshakova I.N., Vladimirova K.V. (2014) Study of the emotional and personal sphere of drug addicted patients. International Journal of Experimental Education. 6-1. 16-18. URL: http: //www.expeducation.ru/ru/article/view? Id = 4916 (In Russ)
Pyatnitskaya I.N., Naydenova N.G. (2002) Teenage narcology. M. Medicine. (In Russ)
Rudavka S.I. (2018) Socio-economic problems of drug addiction in Ukraine and its impact on human health. Vinnitsa National Medical University Bulletin. T. 22 No. 4. 752-759. URL: https://doi.org/10.31393/reports-vnmedical-2018-22(4)-31 (In Russ)
Rokhlina M.L., Kozlov A.A. (2000) Drug addict personality. Journal of Neuropathology and Psychiatry. 7.23-26. (In Russ)
Strelchuk I. V. (1973) Acute and chronic alcohol intoxication. M. Medicine (In Russ)
Sirko Z.S. (2018) Roleva competence as an official of the resocialization of drug addicts: the program of further development. Science studios from social and political psychology. 42 (45). 189-204. (In Ukr)
Sirota N.A., Yaltonsky V.M. (2009) Prevention of drug addiction and alcoholism: a tutorial - 5th edition. Moscow: Academy, (Higher professional education. Psychology) (In Russ)
Filts O., Sedikh K., Mikhaylov S. (2018) Fixed the definition of the mechanism of determination. Psychology and specialty. 2 (14). 9-22. URL: http://dspace.pnpu.edu.ua/handle/123456789/10437 (In Ukr)
Filts A.A., Sedykh K.V. (2019) Ritual of healing as a technology of psychological rehabilitation of persons with chemical dependence. Bulletin of the Kharkiv National Pedagogical University named after G.S. Skovoroda. Psychology. 60.231-247. https://doi.org/10.34142/23129387.2019.60.13 (In Ukr)
Khokhlova K.A. (2007) Characteristics of the sanogenic potential of the personality of drug addicts: PhD thesis in Psyhology: 19.00.04. SPb. (In Russ)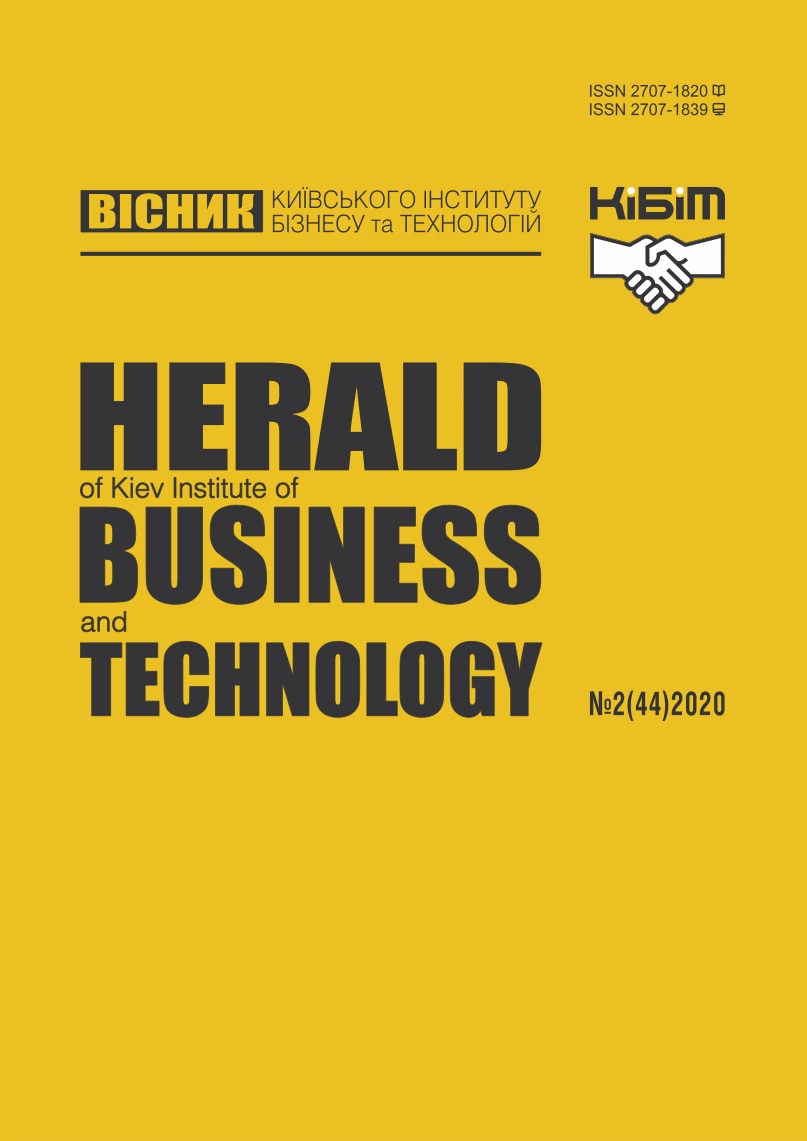 How to Cite
Mostova, T. (2020). Detecting drug addict's personal characteristics that define the resocialization dynamics. Herald of Kiev Institute of Business and Technology, 44(2), 64-72. https://doi.org/10.37203/kibit.2020.44.09