Personality traits of modern parishioners
Keywords:
religion, religiosity, level of religiosity, psychological defense mechanisms.
Abstract
The article considers the problem of the influence of religion on the individual. Since religion is not only a cultural and social phenomenon, its participation in a person's personal life is an unconditional factor in the formation of a person's personality, even if it does not belong to any religious community. And the influence of religion can be traced not only on the worldview level but also on the individual psychological level. And first of all, this is manifested through the emergence of such a personality trait as religiosity, which, in turn, becomes the basis for the formation of other personality traits. Our study focused on identifying personality traits whose development was caused by a person's belonging to a religious community. For this purpose, we formed two samples: the experimental sample consisted of people who were diagnosed with a high level of religiosity, and who are real members of the church community, the control sample included subjects with a low level of religiosity. To determine the level of religiosity, we used the author's questionnaire to assess religiosity. To identify differences in personality traits between parishioners and atheists, we used the test "Personality accentuation " by H. Schmieschek, the test "Level of subjective control" by J. Rotter, and the questionnaire "Lifestyle Index" by R. Plutchik, H. Kellerman and X R. Conte. The study was conducted online using Google forms. Based on the obtained data, we identified statistical differences between parishioners and atheists on all tests used, established psychological portraits of averages for each sample, and, as the main conclusion, found that religious individuals have different individual psychological properties not so much characterological as in the field of mechanisms of psychological protection.
References
Abdullaieva D. (2021). Various psychological factors causing religious fanaticism in women. Society and innovation. 2(2/S), 208-214. https://doi.org/10.47689/2181-1415-vol2-iss2/S-pp208-214 (In Russian)
Altunina I.R. (2020). Problems of motivation in foreign theories of personality. RGGU Bulletin. Series "Psychology. Pedagogy. Education». (4), 12-28. https://doi.org/10.28995/2073-6398-2020-4-12-28 (In Russian)
Bazhin E.F., Golynkina E.A., Etkind A.M. (1984). Methods for researching the level of subjective control. Psychological journal. V.5. №3. P.152-162. (In Russian)
Berdyaev N.A. (1952). Existential dialectic of the divine and the human. Paris: YMCA-PRESS. 246 p. (In Russian)
Biletskyi V.V. (2012). Religious studies: educational manual. Donetsk: East Publishing House. 220 p. (In Ukrainian)
Vasserman L.I., Yeryshev O.F., Klubova Ye.B. (2005). Psychological diagnostics of the life style index. St. Petersburg: Publ. house of NIPNI named after V.M. Bekhterev. 50 p. (In Russian)
Vyhovskyi L.A. (2005). Religion as a socially functioning phenomenon: Dr. Sc. thesis in Philosophy: 09.00.11. Institute of Philosophy named after G.S.Skovoroda of the National Academy of Sciences of Ukraine. Kyiv. 33 p. (In Ukrainian)
James W. (1993). The Varieties of Religious Experience. Moscow: Nauka. 431 p. (In Russian)
Nasledov A.D. (2005). SPSS: Computer Analysis of Data in Psychology and Social Sciences. St. Petersburg: Piter. 416 p. (In Russian)
Popenkova D.I. (2019). The problem of ethnic and religious conflicts in modern Russia. Bulletin of Science and Practice. 5 (10), 274-279. https://doi.org/10.33619/2414-2948/47/31 (In Russian)
Romanova E.S., Grebennikov L.R. (1996). Psychological defence mechanisms: genesis, functioning, diagnostics. Mytishchi: Talant. 144 p. (In Russian)
Trebin M.P. (2018). Religious extremism: understanding the essence. Bulletin of Yaroslav Mudryi NLU: Series: Philosophy, philosophy of law, political science, sociology. 2(37), 140-150. https://doi.org/10.21564/2075-7190.37.133559 (In Ukrainian)
Ugrinovich D.M. (1986). Psychology of religion. Moscow: Politizdat. 352 p. (In Russian)
Feuerbach L. (1955). Selected philosophical works. Moscow. V. 2. P. 320. (In Russian)
Fetiskin N.P., Kozlov V.V., Manuilov H.M. (2005). Socio-psychological diagnosis of personality development and small groups. Moscow: Institute of Psychotherapy Publishing House. 490 p. (In Russian)
Holina O.A., Kazanceva E.V., Mishchenko V.I. (2021). Fundamentals of psychological competence in the professional activity of an investigator. Moscow: Yuright. 204 p. (In Russian)
Chumakov M.V. (2018). Conflict and religious identity: an empirical analysis. Psychology. Psychophysiology. 11 (3), 123-126. https://doi.org/10.14529/psy180315 (In Russian)
Chumakov M.V. (2019). The religiosity of the individual in the context of developmental psychology. Pedagogical education in Russia. (5), 103-107. https://doi.org/10.26170/po19-05-15 (In Russian)
Yablokov I.N. (1979). Sociology of religion. Moscow. P.67-98. (In Russian)
Yablokov I.N. (2018). Karl Marx about religion. Bulletin of Moscow University. Serie 7. Philosophy. (5), 108-120. (In Russian)
Allès D. (2021). Religion and international security: From confessionalization to securitization. In Handbook on Religion and International Relations. Cheltenham, UK: Edward Elgar Publishing. https://doi.org/10.4337/9781839100246.00013
Andersen B.P. (2020). Ethnic group differences in the general factor of personality (GFP) are opposite to that which would be predicted by differential-K theory. Personality and Individual Differences. Volume 152. https://doi.org/10.1016/j.paid.2019.109567
Basedau M., Pfeiffer B., Vullers J. (2016). Bad religion? Religion, collective action, and the onset of armed conflict in developing countries. Journal of Conflict Resolution. 60, 226-255. https://doi.org/10.1177/0022002714541853
Clarke S. (2017). Competing fundamentalisms: violent extremism in Christianity, Islam, and Hinduism. Louisville, Kentucky: Westminster John Knox Press. 246 p.
Cooper C. (2019). Pitfalls of personality theory. Personality and Individual Differences. Volume 151. https://doi.org/10.1016/j.paid.2019.109551
Counted V. (2017). Attachment theory and religious violence: theorizing adult religious psychopathology. Journal for the Study of Religion. vol.30 n.1 Pretoria. https://doi.org/10.17159/2413-3027/2017/v30n1a4
De Graaf B.A., Van den Bos K. (2021). Religious radicalization: social appraisals and finding radical redemption in extreme beliefs. Current Opinion in Psychology. Volume 40. P. 56-60. https://doi.org/10.1016/j.copsyc.2020.08.028
Granqvist P., Mikulincer M., Shaver P. R. (2010). Religion as attachment: normative processes and individual differences. Personality and Social Psychology Review. 14 (1), 49–59. https://doi.org/10.1177/1088868309348618
Heyden K., Mona M. (2021). Coping with religious conflicts. Z Religion Ges Polit. https://doi.org/10.1007/s41682-021-00064-2
Hogan R., Sherman R.A. (2020). Personality theory and the nature of human nature. Personality and Individual Differences. Volume 152. https://doi.org/10.1016/j.paid.2019.109561
Jayawickreme E., Zachry C. E., Fleeson W. (2019). Whole Trait Theory: An integrative approach to examining personality structure and process. Personality and Individual Differences. Volume 136. P. 2-11. https://doi.org/10.1016/j.paid.2018.06.045
Karabin G. (2018). Gabriel Marcel and American Philosophy: The Religious Dimension of Experience. By David Rodick. American Catholic Philosophical Quarterly. 92(4), 721-724. https://doi.org/10.5840/acpq2018924165
Koopmans R. (2015). Religious fundamentalism and hostility against out-groups: a comparison of Muslims and Christians in Western Europe. Journal of Ethnic and Migration Studies. 41, 33-57. https://doi.org/10.1080/1369183x.2014.935307
Lacorne D. (2019). The Limits of Tolerance: Enlightenment Values and Religious Fanaticism. Religion, Culture, and Public Life. New York: Columbia University Press. 296 p.
Matthews G. (2020). Against consensus: Embracing the disunity of personality theory. Personality and Individual Differences. Volume 152. https://doi.org/10.1016/j.paid.2019.109535
Mõttus R. (2017). Five-Factor Theory and personality development. Personality Development Across the Lifespan. Academic Press. P. 87-100. https://doi.org/10.1016/B978-0-12-804674-6.00007-7
Pattison G. (2020). Berdyaev and Christian Existentialism. In The Oxford Handbook of Russian Religious Thought. https://doi.org/10.1093/oxfordhb/9780198796442.013.27
Robinson M.D., Klein R.J., Persich M.R. (2019). Personality traits in action: a cognitive behavioral version of the social cognitive paradigm. Personality and Individual Differences. Volume 147. P. 214-222. https://doi.org/10.1016/j.paid.2019.04.041
Saroglou V. (2015). Personality and Religion. International Encyclopedia of the Social & Behavioral Sciences (Second Edition). P. 801-808. https://doi.org/10.1016/B978-0-08-097086-8.25080-0
Wibisono S., Louis W. R., & Jetten J. (2019). A multidimensional analysis of religious extremism. Frontiers in Psychology, 10, Article 2560. https://doi.org/10.3389/fpsyg.2019.02560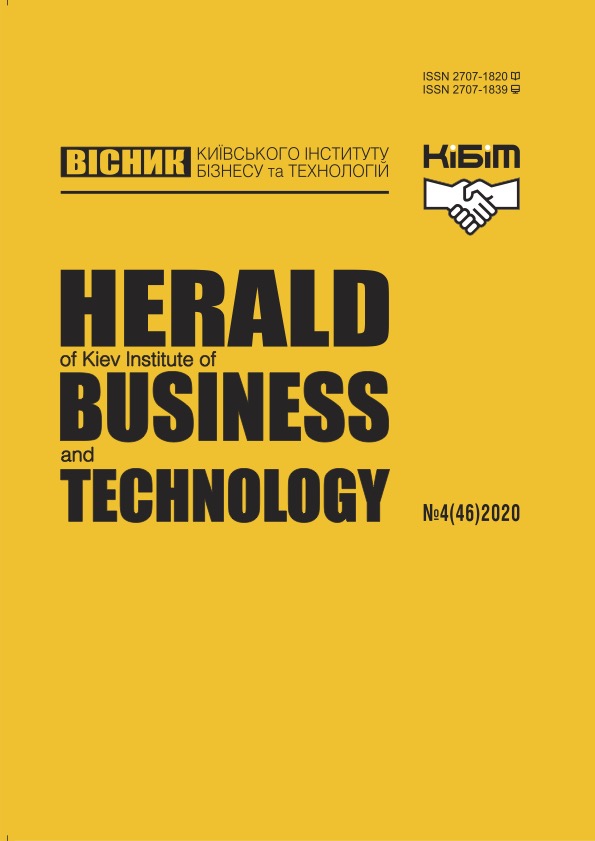 How to Cite
Ivanchuk, A., & Lanovenko, Y. (2021). Personality traits of modern parishioners. Herald of Kyiv Institute of Business and Technology, 46(4), 30-39. https://doi.org/10.37203/kibit.2020.46.04