THE PROBLEM OF THE OUTFLOW OF HUMAN CAPITAL FROM UKRAINE: EDUCATIONAL ASPECT
Keywords:
Human capital, higher education abroad, higher education in Ukraine, employment, reform of the education system
Abstract
The article deals with the problematic issues of the outflow of human capital, ie people with acquired education, work experience, ideas, etc., in the context of reforming the higher education system in Ukraine.
The concept of human development, which has emerged in the world over the last 20-25 years, considers human development as the main goal and criterion for social progress. Considering one of the human rights - free movement and choice of place of residence - this concept is crucial in shaping international migration flows in the modern world.
The level of economic and social development of the individual country and the world as a whole depends on the distribution of the population by countries and on the quality of human capital. Therefore, the migration policy of many countries is aimed at selecting the highest quality human capital through labor migration: employment quotas are formed for the purpose of attracting either the intellectual potential or representatives of the most rare professions.
The educational aspect of human capital discussed in the article is the quality and accessibility of higher education, its ability to meet the demands of modern business and to become a factor in maintaining quality human capital in Ukraine.
Ukraine is now in the process of an active outflow of human capital, including young people, who are choosing places of education to other countries. Among the reasons for this situation is the desire of Ukrainian youth to secure employment abroad, since the level of wages abroad far exceeds the level of wages in Ukraine.
The issue of human capital outflows is multidimensional, so the solution to the problem must be complex. Together with the reform of the education system in Ukraine, all spheres of public life should be reformed, taking into account the experience of the European countries and the most developed countries of the world.
References
Becker G.S. Human Capital: A Theoretical and Empirical Analysis. N.Y., (1964), 402 p. ISBN: 0-226-04119-0
Shultz T. Investment in Human Capital. An American Economic Review, Vol. 51, No.1 N.Y.L., (1961), P. 1-17
Ukraina v mizhnarodnykh reitynhakh [Elektronnyi resurs] / Fond pidtrymky vynakhodiv Minekonomrozvytku. Rezhym dostupu: https://www.sfii.gov.ua/україна-в-міжнародних-рейтингах/
Hrishnova O. A. Education Efficiency as a Motivation Factor for Investing in Human Capital // Regional Perspectives. – (2002). – № 3–4 (22–23). – P.69–72.
Human Development Report 2016. – [Electronic resource] / UNiLibrary, Access mode: https://www.oecd-ilibrary.org/economic-and-socialdevelopment /2016_58f3a150-ru./2016_58f3a150-ru.
Human capital development: Towards quality reforms / under the dir. O. Pyshchulinoi. – K: Publishing house "Zapovit", (2018). – 365 s.
How much does it cost to rent an apartment in Poland? [Electronic resource] / Access mode: http://ukr.net.pl/1dMHMR3R
Apartments for rent in Ukraine: where are the greatest offers and what is the average cost (infographic) [Electronic resource] / Finance.ua. Access mode: https://news.finance.ua/ua/news/-/429447/orenda-kvartyr-v-ukrayini-de-najbilshe-propozytsij-i-yaka-serednya-vartist-infografika
Pidhaina Ye. « Physical map of the world of IT: who earns the most from advanced technologies» [Electronic resource] / Mind. Access mode: https://mind.ua/publications/20179545-fizichna-karta-it-svitu-hto-najbilshe-zaroblyae-na-novitnih-tehnologiyah
Fohel Kh.Ie. Analysis of migration of highly skilled personnel and migration policy of Ukraine, [Electronic resource] , PO « European Innovation Agency », (2018), 10 p., Access mode: https://www.civic-synergy.org.ua/wp-content/uploads/2018/04/Analiz-migratsiyi-i-migratsijnoyi-polityky-Ukrayiny.pdf
Romanenko O.V. Openness of human being in a globalized society / Being human in society: relationships, communication, spirituality: historical and philosophical perspective, K.: Promin, (2010), P. 395-421
Yakovleva O.V. Normative and performative aspects of social predictions in the context of philosophy of education. / M.I. Boichenko, O.V. Yakovleva, O. Kushnir / [Electronic resource], Perspectives of Science & Education, International Electronic Scientific Journal, Access Mode: http://pnojournal.wordpress.com/archive19/19-02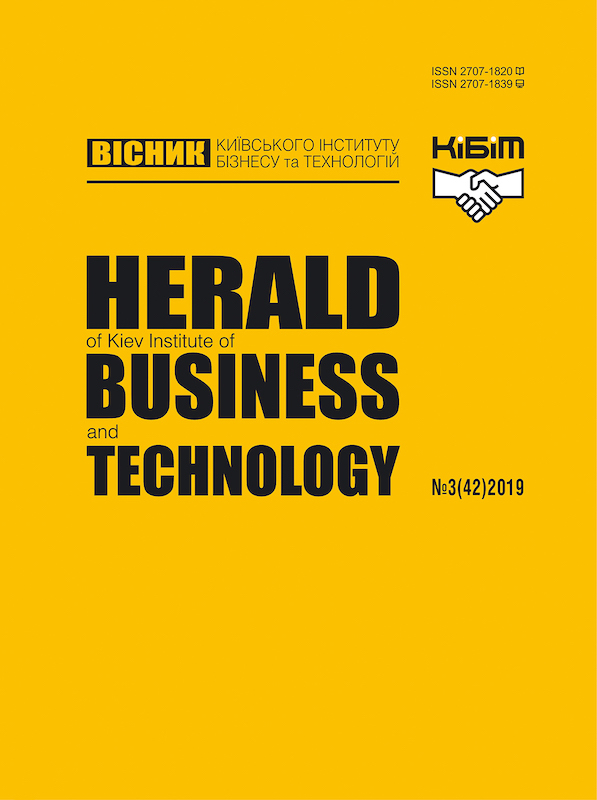 How to Cite
CHIMISHENKO, S. M. (2019). THE PROBLEM OF THE OUTFLOW OF HUMAN CAPITAL FROM UKRAINE: EDUCATIONAL ASPECT. Herald of Kiev Institute of Business and Technology, 42(3), 39-44. https://doi.org/10.37203/kibit.2019.42.06