DIVERSIFICATION AS AN ALTERNATIVE AREA OF DEVELOPMENT OF ACTIVITIES OF ECONOMY AND OBJECT OF ACCOUNTING
Keywords:
diversification of activities, diversification processes, accounting display, competitive advantages.
Abstract
The essence of diversification and its directions is investigated in the article. Significance of external and internal effects of diversification, their interdependence is proved. The basic approaches to diversification of activity of economic entities are determined, causality of the diversification mechanism is established. The main types of diversification are highlighted and the classification of diversification according to its directions, methods and purpose for accounting and analytical purposes is proposed. The accounting and analytical goals of diversification implementation are investigated and their relationship with its strategy and processes is determined.
The social results of the implementation of diversification processes at the enterprises for the society are determined and the achievement of the social effect of the diversification of the activity of the enterprises is substantiated. It is proved that the classification features and types of diversification highlighted in the article have the greatest influence on the organization of accounting of the enterprise and information support of the management personnel, who chose the diversification strategy of development. Diversification factors have been formulated. It is emphasized that the goal of diversification determines the result they seek to obtain in the course of diversification, and accordingly influences the composition of indicators that must be analyzed in order to determine whether the goal has been achieved, ie to determine the effectiveness of diversification processes. The role of diversification in the economic activity of the enterprise is determined.
The classification features of diversification processes have been systematized. It is proved that diversification of business entities is a universal instrument of risk management, stabilization of financial stability and improvement of profitability indicators, and its use provides an opportunity to formulate long-term competitive advantages, attract investment capital and introduce innovative processes.
References
Andrijchuk V.G.(2013) Ekonomika pidpry`yemstv agropromy`slovogo kompleksu. Kyiv: KNEU.
Bogacz`ka N.M., Rumyancev S.M. (2010) Dy`versy`fikaciya diyal`nosti pidpry`yemstva. Available at: http://www.rusnauka.com/4_SWMN_2010
Economics/56841. doc.htm.
Voronecz`ka I.S., Stasyuk N.M. (2010) Ekonomichni zasady` dy`versy`fikaciyi vy`robny`cztva v agropromy`slovomu sektori. Available at: http://www.rusnauka.com/24_NPM_2010./Economics /71164.doc.htm.
Germanyuk N.V. (2010) Teorety`ko-metody`chni aspekty` dy`versy`fikaciyi v sil`s`komu gospodarstvi. Ekonomika APK. № 8. S. 25-29.
Zinchuk T.O., Tkachuk V.I. (2011) Teorety`chno-metodologichni zasady` dy`versy`fikaciyi sil`s`koyi ekonomiky` v konteksti yevropejs`kogo dosvidu. Ekonomika APK. № 1. S. 27-34.
Korin`ko M.D. (2007) Kontrol` ta analiz diyal`nosti sub'yektiv gospodaryuvannya v umovax yiyi dy`versy`fikaciyi: teoriya, metodologiya, organizaciya: monograf. Kyiv: Inform.-analit. аgentstvo.
Ohten' A.A.,Trubchanin V.V. (2010) Ocenka potenciala diversifikacii proizvodstva na promyshlennyh predprijatijah Ekonomіchnij vіsnik Donbasu. Donecz`k. Vip. 3 (21). S. 105-110.
Popova S.M. (2004) Dy`versy`fikaciya diyal`nosti pidpry`yemstv v umovax transformacijnoyi ekonomiky`: avtoref. dy`s. … kand. ekon. nauk: 08.06.01 / S.M. Popova; Xark. nacz. ekon. un-t. Kharkiv.
Skorobogatov M.M., Kucerubova O.I. (2011) Dy`versy`fikaciya yak ody`n iz shlyaxiv pidvy`shhennya efekty`vnosti diyal`nosti pidpry`yemstv u suchasny`x umovax. Ekonomichny`j visny`k Donbasu, № 3. Available at: http: //dspace. nbuv. gov.ua/bitstream/handle/123456789/24129/4Skorobogatov.pdf.
Tkachuk V.I. (2011) Dy`versy`fikaciya agrarnogo pidpry`yemny`cztva: monograf. Zhy`tomy`r: ZhNAEU.
Tkachuk V.I. (2014) Social`ny`j vektor rozvy`tku dy`versy`fikacijny`x procesiv v agrarny`x pidpry`yemstvax. Agrarna ekonomika. T.7, № 1-2. S. 93-96. Available at: http://nbuv.gov.ua/j-pdf/ae_2014_7_1-2_17.pdf.
Czogla O.O. (2007) Perevagy` ta nedoliky` strategiyi dy`versy`fikaciyi pidpry`yemstva .Aktual`ni problemy` ekonomiky`. № 5. S. 148-152.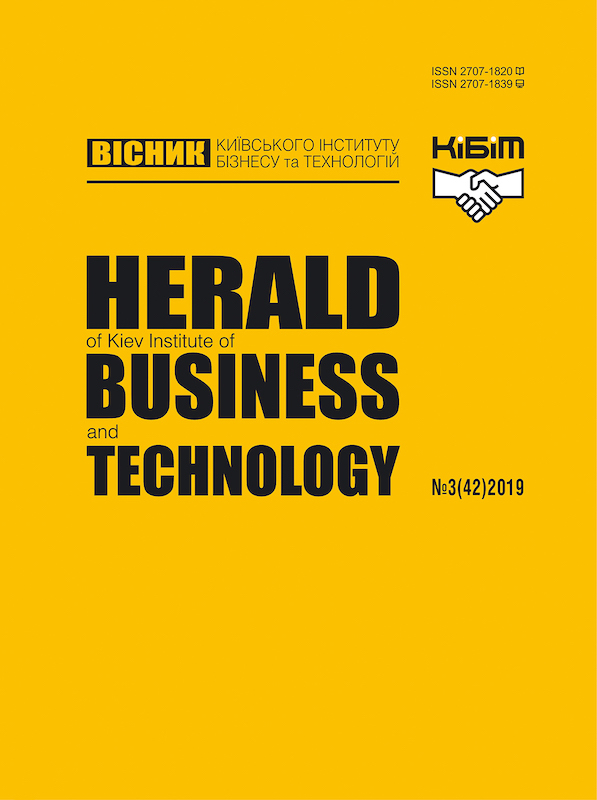 How to Cite
MOMONT, T. V. (2019). DIVERSIFICATION AS AN ALTERNATIVE AREA OF DEVELOPMENT OF ACTIVITIES OF ECONOMY AND OBJECT OF ACCOUNTING. Herald of Kiev Institute of Business and Technology, 42(3), 57-63. https://doi.org/10.37203/kibit.2019.42.09