SEPARATE RESULTS OF LONGITUDINAL STUDY OF PSYCHOLOGICAL AND PEDAGOGICAL FACTORS OF FAMILY DETERMINANTS IN PERSONAL CRISES
Keywords:
psychological and pedagogical factors, family determination, personal crises, crisis experience, overcoming crises.
Abstract
The article presents a typological model of the psychological and pedagogical factors of family determination of personal crises. The main groups of psychological and pedagogical factors of family determinants of personality life construction and crisis experience formation have been determined, and namely: factors of constructive mode, strategic mode, and functional mode; whereas psychological and pedagogical factors of the constructive mode are ensured by the action of humanistic value factors, accumulative value factors; constructive balance factors; goal-setting value factors; problem-oriented factors; subjective and vital factors; creative and constructive factors. Factors of strategic mode include reflexive and existential factors (determining an ability of an individual or a community to track phenomena, to understand their essence, to learn existential values); experience and historical factors (determining standardized behavioural patterns of an individual, family, nation, those patterns having fostered their survival in a certain historical period); cultural and traditional factors (determining local and global heritage, the achievements of a society in the material and spiritual segments of existence and their manifestation in the life of an individual, family, nation, and humanity); spiritual and religious factors (characterizing basic spiritual values of an individual and family regarding the role and place of a human in the world, as individuals, as men and women inter-connected and inter-related with the Absolute. Functional psychological and pedagogical factors are primarily ensuring the consistency of marital values (in the parental and own family), the consistency of values (family values and those individually acquired) with the traditional values of a particular nation (or nations), which ethos the specific individual is representing; the consistency of values (family values and those individually acquired) with the situational values of a particular community and society in a particular time and space. The results of an empirical study of the effects of psychological and pedagogical factors of family determination on the nature of overcoming personal crises of different etiology in target samples are presented. Correlation relationships between groups of strategic factors are determined. Based on the research data, peculiarities of influence of psychological and pedagogical factors of family determinants on a personal life design along three research vectors are identified: transgenerational, intergenerational, and individual. The specific features of sensitivity in selected supportive and crisis families to the types of psychological and pedagogical factors of family determinants in crises periods are revealed.
References
Hrydkovets L.M. Svit zhyttievykh kryz liudyny yak dytyny svoiei sim′i, svoho rodu ta narodu : monohrafiia / L.M. Hrydkovets, 2-he vydannia, vypravlene ta dopovnene. Kyiv : MKT, 2019, 524 s.
Hrydkovets L.M. Psykholoho-pedahohichni chynnyky rodynnoi determinatsii osobystisnykh kryz. Avtoref. dysertatsii na zdobuttia naukovoho stupenia doktora psykholohichnykh nauk zi spetsialnosti 19.00.07; pedahohichna ta vikova psykholohiia. Prykarpatskyi natsionalnyi universytet imeni Vasylia Stefanyka. Ivano-Frankivsk, 2019. 46 s.
Hrydkovets L. Psykholoho-pedahohichni chynnyky rodynnoi determinatsii tsilespriamovanoho ta fonovoho vplyvu u strukturi aktyvizatsii/podolanni osobystisnykh kryz. Science and Education a New Dimension. Pedagogy and Psychology, VII (83), Issue: 203, 2019 Sept. P.58-62. URL: https://seanewdim.com/uploads/3/4/5/ 1/34511564/httpsdoi.org10.31174send-pp2019-203vii83-14.pdf
Hrydkovets L.M. Psykholohichnyi vplyv travmivnoho dosvidu poperednikh pokolin na riven psykhichnoho zdorovia nashchadkiv. Visnyk Kyivskoho instytutu biznesu ta tekhnolohii. 2018. № 3(37). S.9-13.
Savchyn M. V. Dukhovnyi potentsial liudyny : monohrafiia; red.: O. Pilko. Ivano-Frankivsk : Plai. Vyd-vo Prykarp. un-tu, 2001. 204 c.
Brekhman K. Sh., Brekhman H. Y. Psykhosomatycheskye rasstroistva u detei, rodyvshykhsia ot zhelannoi y nezhelannoi beremennostei. Эkolohyia Zemly! Эkolohyia Lona! Эkolohyia Zemly. Materyalы Rehyonalnoi konferentsyy po perynatalnoi psykholohyy. Yvanovo, 1998. S. 42–45.
Katolyk H.V., Korniienko I.O. Tekhnohenni katastrofy: psykholohichna dopomoha ochevydtsiam ta postrazhdalym: nauk.-metod. zbirnyk / zared. H. Tykhobaieva. 2.vyd., dop. L. Chervona kalyna, 2003. 124s.
Reabilitatsiina psykholohiia /za red. L. Hrydkovets, N. Prorok, L. Tsarenko. V 3-kh t. OBSIe. Ministerstvo sotsialnoi polityky. 2018.
Kazlauskas, E., & Zelviene, P. Trauma research in the Baltic countries: From political oppression to recovery. European Journal of Psychotraumatology, 7, 2016..
Ruppert F. Travma, sviaz y semeinыe rasstanovky. Poniat y ystselyt dushevnыe ranы/ per. s nem. E.Hurskaia., M.: Ynstytut konsultyrovanyia y semeinыkh reshenyi, 2010, 272 s.
Vidnere M, Nucho A. O. Latvian survivors of deportations /M. Vidnere, A. Nucho., Riga: RaKa; 2000.
Shuttsenberher A.Syndrom predkov. Transheneratsyonnыe sviazy, semeinыe tainы, syndrom hodovshchynы, peredacha travm y praktycheskoe yspolzovanye henosotsyohrammы. /Perevod s frantsuzskoho: Y. K. Masalkov Nauchnыi redaktor: Mykhayl Burniashev., M.: Yzd-vo Ynstytuta Psykhoterapyy, 2001, 240 s.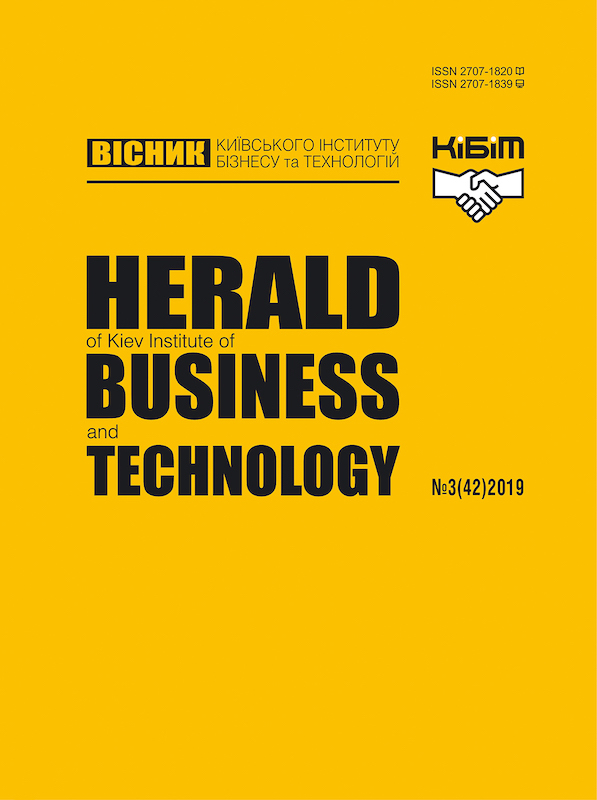 How to Cite
GRIDKOVETS, L. M. (2019). SEPARATE RESULTS OF LONGITUDINAL STUDY OF PSYCHOLOGICAL AND PEDAGOGICAL FACTORS OF FAMILY DETERMINANTS IN PERSONAL CRISES. Herald of Kiev Institute of Business and Technology, 42(3), 95-101. https://doi.org/10.37203/kibit.2019.42.15