MODELING AND ANALYSIS OF QUALITY OF TRANSITION PROCESSES IN FUZZY ELECTRIC CONTROL SYSTEMS
Keywords:
fuzzy logic, automatic control system, error, feedback, electromechanical system, adaptive control.
Abstract
Methods of using fuzzy-logic to solve problems of the electromechanical systems control are considered. As the way for the automated electromechanical systems functioning quality improvement is used one of the automatic control modern principles - adaptive control which is implemented by means of regulation and control adaptive algorithms formation intellectual technologies, namely indistinct control technology (Fuzzy-control). Two models of control systems are considered: classical double-circuit system of  the rotation speed stabilization of direct current motor - operated rectifier with the proportional and integrated regulator and the system of stabilization direct current motor - operated rectifier on the indistinct speed regulator basis. Modeling of stabilization systems and the further transition processes analysis was made by means of Matlab Simulink modeling environment. After carrying out of the necessary mathematical calculations and the choice of the most optimum transfer functions, the full function chart was developed for each element of the classical double-circuit scheme of the speed stabilization of the researched system direct current motor - operated rectifier. The comparative analysis of the main quality indicators of the transition process for the classic and fuzzy control systems is carried out in order to identify the advantages and disadvantages of the latter. Two control systems are being investigated: the classic dual-circuit speed stabilization system with a the proportional and integral controller and the stabilization system based on a fuzzy-speed-controller. Modeling of stabilization systems and subsequent analysis of transients is carried out in the Matlab Simulink simulation environment with using of the intellectual control box Fuzzy Logic Toolbox.
References
1. Makarov I.M., Loxy`na V.M., Man`ko S.V., Romanov M.P. (2006). Shtuchny`j intelekt i intelektual`ni sy`stemy` upravlinnya. Viddilennya inform. texnologij i obch. sy`stem RAN. Moscow. Nauka.
2. Zajcev A.Y`., G.L. Muravjov, V.L. Stashnov Zastosuvannya nechitky`x sy`stem upravlinnya v elektropry`vodax.. Available at: www.electro.nizniy.ru// papers / 4 / 00407.html.
3. Kaby`lbekova V.V., Kulaxmetov R.F., Nadyeyev A.I. ( 2009). Nechitki sy`stemy` upravlinnya ty`ry`storny`my` elektropry`vodamy`. Datchy`ky` i sy`stemy`.№5. S. 37-39.
4. Bohuta O.S. Rozrobka strukturnoi matematychnoi modeli elektropryvodu pidiomnoho prystroiu krana-manipuliatora // Mizhnarodnyi naukovo-tekhnichnyi zhurnal molodykh uchenykh, aspirantiv ta studentiv «Suchasni problemy elektroenerhotekhniky ta avtomatyky», 2019. 5 s.
5. Tolochko O.I. Navchalnyi posibnyk z dystsypliny «Modeliuvannia ta analiz elektromekhanichnykh system v MATLAB». Kyiv: KPI im. Ihoria Sikorskoho (elektronne merezhne navchalne vydannia), 2019. – 298 s.
6. Bovkunovych V.S., Burmelov O.O. Obmezhennia strumu i napruhy statora v systemi tryzonnoho rehuliuvannia shvydkosti dvyhuna z postiinymy mahnitamy pry vykorystanni optymalnykh stratehii keruvannia // PSE Tekhnichna elektrodynamika, 2018, №5. – S. 61-64. (Scopus). Current and voltage stator limitation in three-zone speed control system of motor with permanent magnets using optimal control strategies Tekhnichna Elektrodynamika 2018-08-16 | journal-article DOI: 10.15407/techned2018.05.061
7. Terebiichuk S.V. Doslidzhennia astatychnykh za navantazhenniam system rehuliuvannia shvydkosti // Mizhnarodnyi naukovo-tekhnichnyi zhurnal molodykh uchenykh, aspirantiv ta studentiv «Suchasni problemy elektroenerhotekhniky ta avtomatyky», 2017. – S. 509-514.
8. Bereziuk Ye.Iu. Parametrychnyi syntez systemy pidporiadkovanoho rehuliuvannia polozhennia ta studentiv // Mizhnarodnyi naukovo-tekhnichnyi zhurnal molodykh uchenykh, aspirantiv ta studentiv «Suchasni problemy elektroenerhotekhniky ta avtomatyky», 2017. – S. 460-463.
9. El Khamdauy Muad. Analyz statycheskykh kharakterystyk asynkhronnoho dvyhatelia pry pytanyy eho ot ustroistva plavnoho puska shvydkosti // Mizhnarodnyi naukovo-tekhnichnyi zhurnal molodykh uchenykh, aspirantiv ta studentiv «Suchasni problemy elektroenerhotekhniky ta avtomatyky», 2017. – S. 468-473.
10. Sopiha M.V. Strukturna realizatsiia systemy tryzonnoho rehuliuvannia shvydkosti synkhronnoho dvyhuna z postiinymy mahnitamy pry vykorystanni optymalnykh stratehii keruvannia // Visnyk Vinnytskoho politekhnichnoho universytetu. – 2017, №5. – S. 101-107 (8 s.). ISSN 1997-9266.
11. Stiazhkin V.P., Ryzhkov O.P. Doslidzhennia protsesiv rukhu mekhanizmiv mostovoho kranu pry yikh odnochasnii roboti metodom matematychnoho modeliuvannia z vykorystanniam virtualnykh mekhanichnykh blokiv biblioteky Simmechanics paketu Matlab // Visnyk NTU «KhPI». Problemy avtomatyzovanoho elektropryvoda. Sylova elektronika ta enerhoefektyvnist – Kharkiv: NTU «KhPI», 2017, vyp. 27 (1249). – S.48-52.
12. Kondratenko I.P. Shliakhy pobudovy systemy avtomatychnoho keruvannia kranom-manipuliatorom // Avtomatyka-2017: XXIV mizhnarodna konferentsiia z avtomatychnoho upravlinnia, m. Kyiv, Ukraina, 13-15 veresnia 2017 r.: tezy konferentsii. – S.104-105.
13. Romanchuk A.O. Osoblyvosti virtualnoho fizychnoho modeliuvannia mekhanichnykh obiektiv z vykorystanniam blokiv biblioteky SimMechanics // Mizhnarodnyi naukovo-tekhnichnyi zhurnal molodykh uchenykh, aspirantiv ta studentiv «Suchasni problemy elektroenerhotekhniky ta avtomatyky», 2016. – S. 276-282.
14. Bazhutyn D.V. Hashenye kolebanyi peremeshchaemыkh mostovыmy kranamy hruzov pry peremennoi dlyne kanata // Zavalyshynskye chtenyia16. – SPb.: HUAP (Sankt-Peterburhskyi hosudarstvennыi unyversytet aэrokosmycheskoho pryborostroenyia), 2016. – S. 250-255.
15. Chornyi O.P., Tytiuk V.K. Matematychni modeli ta osoblyvosti chyselnykh rozrakhunkiv dynamiky elektropryvodiv z asynkhronnymy dvyhunamy: monohrafiia. – Kremenchuk: PP Shcherbatykh O.V., 2016. – 299 s. Rekomendovano do vydannia vchenoiu radoiu Kremenchutskoho natsionalnoho universytetu im. M. Ostrohradskoho (protokol №1 vid 25.10.13 r.)
16. Tolochko O.I. Rozrobka modelei skladnykh elektromekhanichnykh system v seredovyshchi paketa MATLAB z vykorystanniam blokiv dodatku virtualnoho fizychnoho modeliuvannia SIMSCAPE // Visnyk NTU «KhPI». Problemy avtomatyzovanoho elektropryvoda. – Kharkiv: NTU «KhPI», 2015, 12 (1121). – S.118-123.
17. Buhrovyi A.A. Polipshennia dynamiky system elektropryvodu na bazi synkhronnoho dvyhuna z postiinymy mahnitamy pry vykorystanni optymalnykh stratehii keruvannia // Tekhnichna elektrodynamika, 2016, №5. – S. 35-37 (Scopus). DOI: https://doi.org/10.15407/techned2016.05.035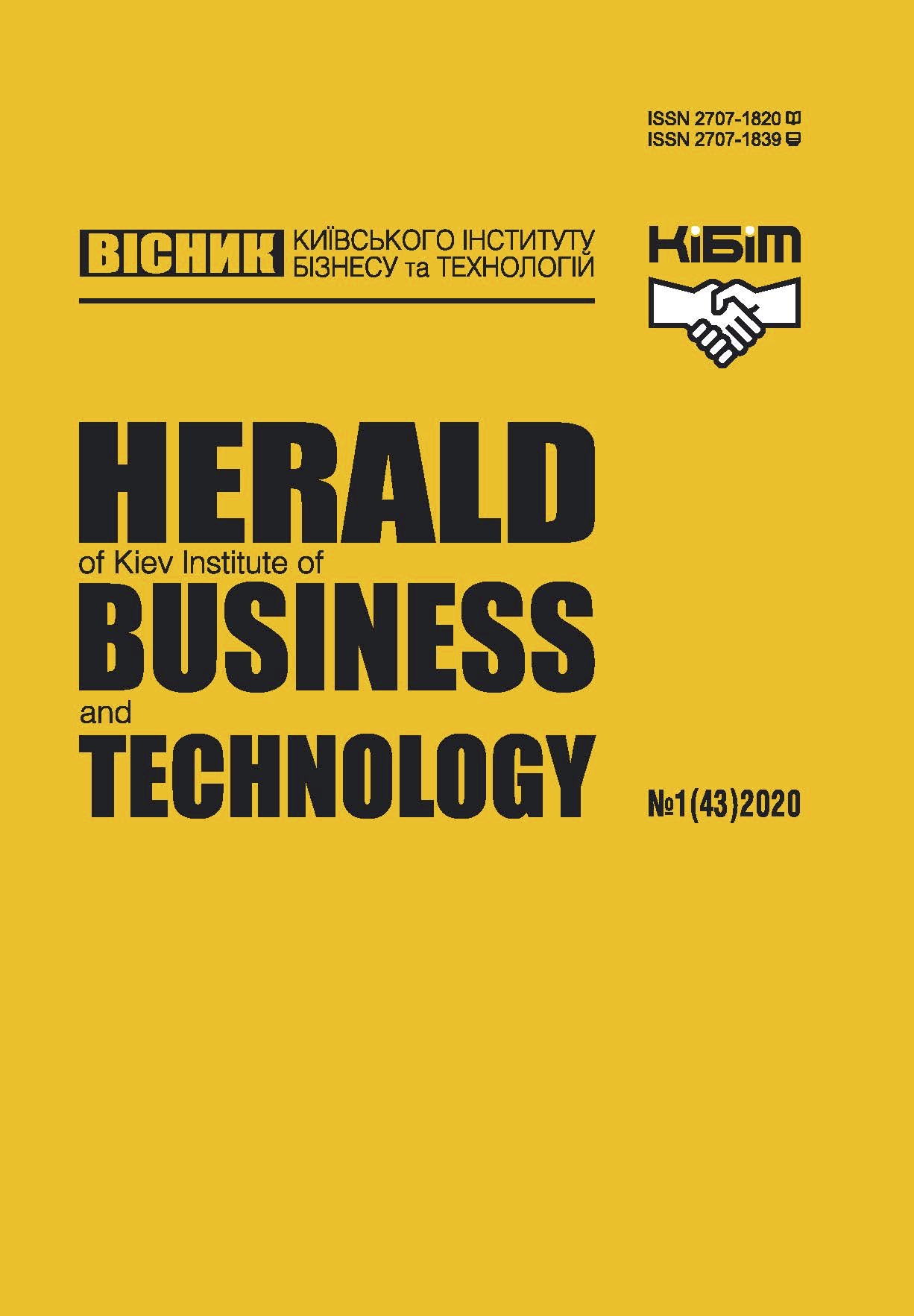 How to Cite
Pantyeyev, R. (2020). MODELING AND ANALYSIS OF QUALITY OF TRANSITION PROCESSES IN FUZZY ELECTRIC CONTROL SYSTEMS. Herald of Kiev Institute of Business and Technology, 43(1), 58-64. https://doi.org/10.37203/kibit.2020.43.08