INFLUENCE OF LABOUR MIGRATION ON THE COUNTRY'S ECONOMIC SITUATION ON THE EXAMPLE OF UKRAINE
Keywords:
migration flows, labour resources, labour migration, emigration
Abstract
The article deals with the main problems that cause labour migration processes. The influence of labour migration on the economy of the countries is investigated. It is proved that migration plays a significant role in the development of countries because it changes the economic and social situation of people. Based on the analysis, it has been established that labour resources from countries with relatively higher levels of gross domestic product per capita migrate to countries with high levels of development. Migrants from less developed countries take their place. It is analyzed that population migration has economic consequences for both migrants themselves and donor and recipient countries. These consequences can be positive and negative for participants in the migration process. It is generally accepted that the overall impact of migration on the exporting country has a positive effect. However, some effects on specific sectors of the economy, labour, or territory may be negative. The factors that encourage the population of Ukraine to migrate are distinguished. Ukraine is primarily a donor or provider of labour resources. Ukraine's population has been steadily declining as a result of demographic and emigration processes, and more recently due to the military conflict in the east. According to statistics, in 2018, 17.8% (3.2 million) of the able-bodied population of Ukraine worked abroad. On average, 7 to 9 million Ukrainians participate in the migration process annually. The main positive consequence of the labour migration of the Ukrainian population abroad is that the money received for the work done is returned to the country. Based on the results obtained, it was concluded that the state and scientists need to revise and rethink the strategy of Ukraine on labour migration issues. Much attention needs to be paid today to finding new ways, methods and mechanisms to influence emigration processes that will help slow down labour migration, as it can lead to higher inflation and slower economic growth.
References
1. Zakon Ukrainy "Pro zovnishniu trudovu mihratsiiu" vid 05.11.2015 № 761-VIII https://zakon.rada.gov.ua/laws/show/5067-17;
2. Zakon Ukrainy "Pro zainiatist naselennia" https://zakon.rada.gov.ua/laws/show/761-19
3. Aleksieieva T. I. (2019) Evoliutsiia mihratsiinykh protsesiv kriz pryzmu teorii mizhnarodnykh vidnosyn. Naukovyi visnyk Uzhhorodskoho natsionalnoho universytetu. seriia: Mizhnarodni ekonomichni vidnosyny ta svitove hospodarstvo. 24, V. 1. P. 10-13.
4. Libanova E. M. (2018) Zovnishnia trudova mihratsiia ukraintsiv: masshtaby, prychyny, naslidky. Demohrafiia ta sotsialna ekonomika. 2 (33). P. 11-26.
5. Liubovych A. A. (2019) Doslidzhennia ryzyku trudovoi mihratsii naselennia Ukrainy. Statystyka – instrument sotsialno-ekonomichnykh doslidzhen: zbirnyk naukovykh studentskykh prats. Vypusk 5. V. 1. P. 90-98.
6. Mizhnarodna orhanizatsiia pratsi. Faktory v trudovii mihratsii. http://www.ilo.org/wcmsp5/groups/public/‐‐‐dgreports/‐‐‐dcomm/documents/publication/wcms_ 067570.pdf
7. Naslidky mihratsiinykh protsesiv: novi vyklyky ta mozhlyvosti dlia rehioniv. NAN Ukrainy, DU "Instytut rehionalnykh doslidzhen imeni M.I. Dolishnoho"; nauk. red. U.Ia.Sadova. Lviv, 2015. 252 p.
8. Nykyforak V. A., Todoriuk S. I., Antokhova I. M. (2019) Trudova mihratsiia za kordon u suchasnykh umovakh transformatsii ekonomiky Ukrainy. Investytsii: praktyka ta dosvid. 8. P. 52–58.
9. Petrushyna T., Sokolovskyi I. (2018) Sotsiolohichni pokaznyky stanu rynku pratsi Ukrainy: aktualni problemy ta vyklyky. Ukrainske suspilstvo: monitorynh sotsialnykh zmin. zb. nauk. prats. 6 (20). P. 139-147.
10. Roshchyna N. V., Bordanova L. S. (2017) Osoblyvosti mihratsiinykh protsesiv u suchasnykh ekonomichnykh umovakh. Ekonomika ta derzhava. 1. P. 32-36.
11. The Future of Jobs Report 2018. Insight Report. World Economic Forum. Retrieved from: http://www3.weforum.org/ docs/WEF_Future_of_Jobs_2018.pdf
12. Ofitsiinyi sait Ministerstva sotsialnoi polityky Ukrainy. https://www.msp.gov.ua/content/trudova-migraciya.html
13. Libanova E. M. (2019) Pro osnovni polozhennia Natsionalnoi dopovidi "Ukrainske suspilstvo: mihratsiinyi vymir" (stenohrama naukovoi dopovidi na zasidanni Prezydii NAN Ukrainy 19 hrudnia 2018 r.). Visnyk Natsionalnoi akademii nauk Ukrainy. 2. P. 36-43. Retrieved from: http://nbuv.gov.ua/UJRN/vnanu_2019_2_5.
14. Malynovska O. A. (2018) Trudova mihratsiia hromadian Ukrainy za kordon: vyklyky ta shliakhy reahuvannia. Natsionalnyi instytut stratehichnykh doslidzhen. Kyiv. Retrieved from: https://niss.gov.ua/sites/default/files/2018-09/Malynovska-d28e1.pdf.
15. Iankovska, L. (2019). Kontseptualni zasady rehuliuvannia trudovoi mihratsii u svitli zberezhennia osvitno-fakhovoho potentsialu derzhavy. Scientific Notes of Lviv University of Business and Law, 21, 4-8. Retrieved from https://nzlubp.org.ua/index.php/journal/article/view/127.
16. Arakelova, I., (2017) the influence of internally displaced persons on the social and economic development of regions in Ukraine. Baltic Journal of Economic Studies. 3, 6–12. doi: https://doi.org/10.30525/2256-0742/2017-3-5-6-12
17. Bortnyk, N. & Didkivska, G. & Tylchyk, V. (2018). The impact of international labour migration on the development of states under globalization: economic and legal aspects. Baltic Journal of Economic Studies. 4. 47-52. https://doi.org/10.30525/2256-0742/2018-4-2-47-52.
18. Drakokhrust, T., Prodan, I., Tkach, U. (2019) Migration challenges: trends and implications for Ukraine and countries of eastern Europe. Baltic Journal of Economic Studies. 5, 30. doi: https://doi.org/10.30525/2256-0742/2019-5-2-30-37
19. Hrynkevych, O., (2017) Cross-border factor of educational migration of Ukrainian youth to Poland: Social-economic opportunities and threats. Economic Annals-XXI 163, 26–30. doi: https://doi.org/10.21003/ea.V163-05
20. Metelev, S., (2016) Migration as a threat to national security. Indian Journal of Science and Technology 9. doi: https://doi.org/10.17485/ijst/2016/v9i14/91086
21. Shelomentseva, V.P., Ifutina, Y.A., Frezorger, L.A. (2017) Structural changes in economics and their impact on the labour market. Journal of Advanced Research in Law and Economics 8, 1315–1321. doi: https://doi.org/10.14505/jarle.v8.4(26).30
22. Shymanska, K.V., Kurylo, M., Timchenko, G. (2017) Determinants of migration motives as a precondition for the migration flows formation. Problems and Perspectives in Management. doi: https://doi.org/10.21511/ppm.15(3-2).2017.05
23. Chimishenko, S. M. (2019) "The problem of the outflow of human capital from Ukraine: educational aspect", Herald of Kiev Institute of Business and Technology, 42(3), pp. 39-44. doi: https://doi.org/10.37203/kibit.2019.42.06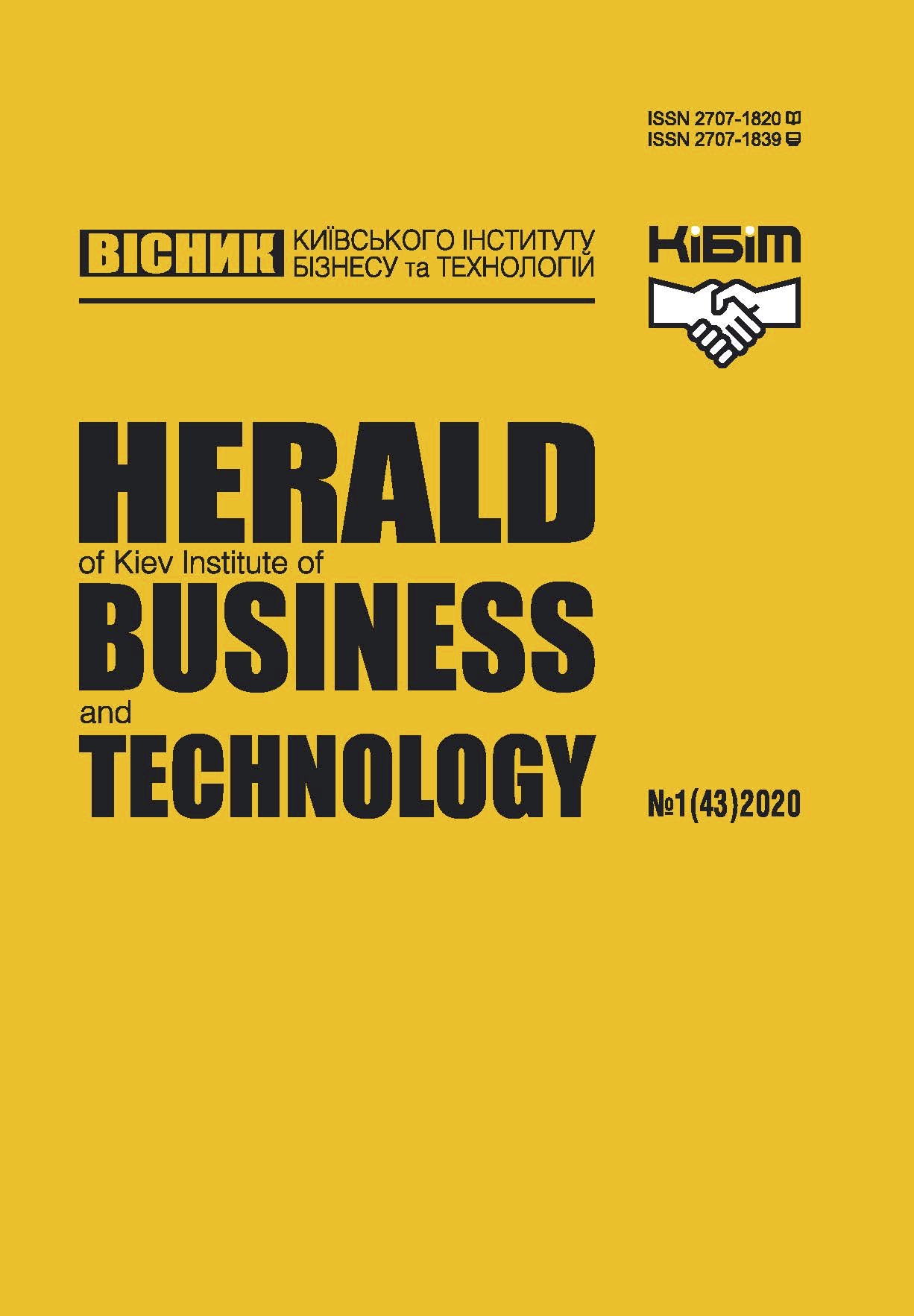 How to Cite
Shymanska, V. (2020). INFLUENCE OF LABOUR MIGRATION ON THE COUNTRY'S ECONOMIC SITUATION ON THE EXAMPLE OF UKRAINE. Herald of Kiev Institute of Business and Technology, 43(1), 65-69. https://doi.org/10.37203/kibit.2020.43.10